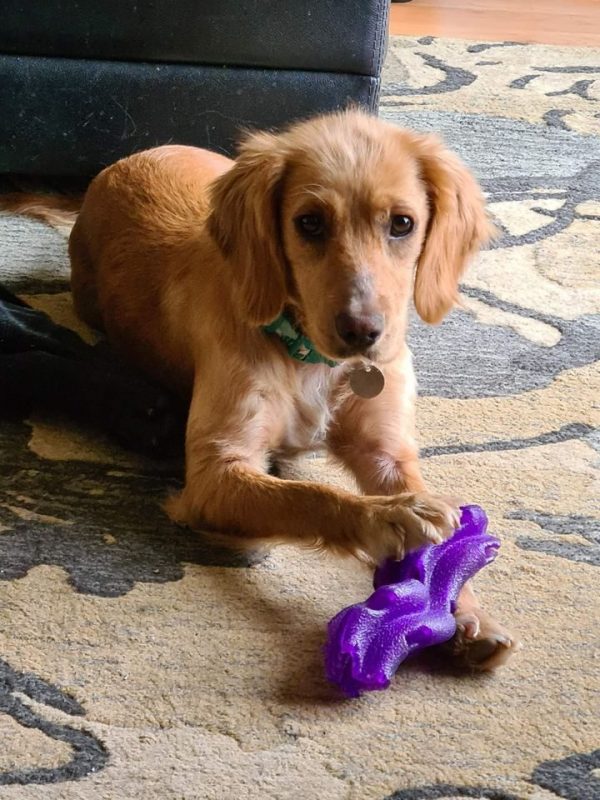 Meet gorgeous little Oren, a 7 month old spaniel mix girl. She came to us as a very scared stray pup, with awful mange, which has taken a while to get straight. She is now looking much more like the plush, beautiful girl that she should be.
Oren is incredibly sociable and very dog friendly and would love to go with another doggy friend. Oren is cat friendly and lives happily in foster with both dogs and cats with no issues. She can be left for a couple of hours without problem, and with regular toiletting is clean in the house
Oren is a young girl who will be wanting a very active life, she is a huge fan of sniffing being a typical spaniel, and would excel at scent work or something similar to exercise her brain. We will be looking for a home for her who want to undertake both further training and who will ensure she leads a full and active life for many years. Oren is able to live with children and is a gentle soul, so a family with youngsters wanting to get on with training would be a fab match for her
Oren is currently in foster in St Neots, and is ready now for her new home. Oren is currently not yet spayed as we are finishing her skin fully resolving so we will under no circumstances place her where there is an unneutered male.
If you are interested in her please fill out the form at
www.lunaanimalrescue.org
and please note that we are unable to return all enquiries but if you receive the bounce back email then you have successfully submitted your enquiry .
Please note that we will prioritise enquiries who provide information around training and development opportunities for Oren to have the active life that she will need