Our latest newsletter is available here. It gives a round up of what we have been doing over the last 12 months along with information on the animals we help.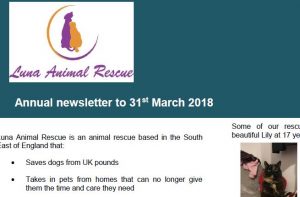 All at Luna Animal Rescue would like to truly Thank PC Dave Wardell and PD Finn for choosing us as their charity. We are overwhelmed and incredibly grateful for the money raised at the sponsored walk . We would also like to thank the organisers. We will use every penny on rescuing animals and ensuring their health comes first. Thank you again. Xxx
---
We were very proud to take part in the series on Sky 1 which aired in Feb 2016. Our Alfie (on the left of the picture) was one of the main stars. The series was called Dogs Might Fly was presented by Jamie Theakston and featured Victoria Stilwell and Charlotte Wilde.
---
We are extremely pleased and proud to announce that Luna Animal Rescue is now officially a registered Charity. Our Registered Charity Number is 1163839. Celebration time.
If you have any items that you may think we could make use of whether it is blankets, food donations or maybe unwanted gifts for our Facebook auction, please let us know and we can arrange for a drop off point with one of our volunteers in your area. All donations are gratefully received.
---
---
We would like to thank The Range in Stevenage for allowing us to have a food collection bin in their store. All food placed in the bin will be donated to our dogs.
---
---
A huge thank you to Pets Corner,Country Gardens, Dunsbridge Turnpike, Shepreth, Royston, SG8 6RA.
They are offering a one off 10% discount for our new adopted dogs. When you adopt one of our dogs you can take your Adoption Agreement with you to Pets Corner and they will take 10% off your bill.
https://www.petscorner.co.uk/royston
---
---
If you would like to make a donation to Luna you can do this through our paypal account. Please use the Friends and Family option or some of your donation does not get to us.