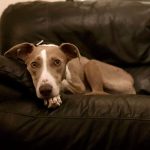 Werther is the most adorable 2 year old lurcher. He's had a really tough time and ended up unclaimed in the pound with a seriously dislocated left hip. He had this treated with a radical sounding surgery of hip removal, and is doing really well.
He's very affectionate and loves nothing more than a cuddle on the sofa, loves other dogs and is quiet and shy making new friends but once he loves, he loves with the biggest heart.
He's now weight bearing well and is able to do 20 mins on a flat surface, and will gradually increase over time. He will never be totally perfect on his left hind leg, but will be fully active and will never have hip pain, and will regain lots more muscle mass yet. We don't anticipate that he should need any further vet work, but if that should be the case, Luna will take responsibility for it.
Werther loves the company of other dogs, and is at his happiest being snuggled with both people and dogs ?. Werther can be rehomed with children, but they will need to be respectful of his needs and carefully observed throughout his ongoing recovery.
If you think you can give Werther the love, cuddles and gradual increase in exercise that he deserves, please fill out an enquiry form here