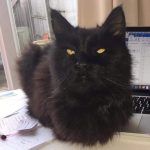 Pez is such a handsome boy. He's 14 years old, and his 'owner' decided he didn't want him any more so just shut him out ? in this cold and without a second thought.
Poor Pez is so affectionate and loving, and has the biggest cuddliest head which he loves nothing more than having rubbed and his ears tickled. He loves spending time with people, he's such a friendly loveable boy.
He's a little stiff at times in his back legs, but is as right as rain otherwise. He's obviously an older boy who just deserves the most love for his remaining years. He can live with other cats , and older children who won't be too overwhelming for him.
If you think you could handle the amount if love this boy has for his people, and want cuddles from this beauty please fill out a form here