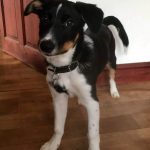 Tictac is the most gorgeous 4 month old tri-colour collie cross boy. He's as smart as they come, he's crate and house trained, and full of beans and fun just like a puppy should be ?
He needs further training, of course, but he's a blank canvas and will excel at all kinds of disciplines with the right input. We would love to find him a home who understand that he's a baby with a busy brain, he actively wants to learn and will be a superb dog to bring on.
He's used to cats, children and is socialising really well with other dogs, and is a brilliant little lad. We will prioritise enquiries for him from those who actively seek and participate in training, and either work flexibly or have plans for work times, as this lad has so much potential, and deserves a home who will capitalise in this.
If you are interested in Tictac please fill out an enquiry form here