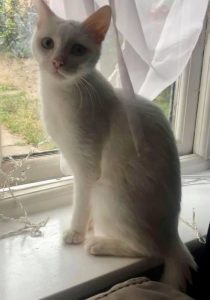 Please meet sweet little Jellyfish – or Jelly as she has become known
Jellyfish is about 2 years old and has settled well in her foster home. She prefers a quiet environment where she will come out to play and investigate once she feels safe.
Jellyfish loves a chicken treat and when in the mood enjoys a belly tickle.
Jellyfish would be best suited to an adult only or experienced cat owner home where she'll be given the space, patience and time she needs to get used to her new surroundings.
She's a very beautiful little lady and deserves to be loved, she can live in a home with other animals but they must be calm and non threatening to her.
Sweet Jellyfish really deserves a forever home of her own where she can sunbathe on a window sill or lay on the top of your sofa.
Jellyfish is neutered and fully vaccinated.
Please send in an enquiry if interested in offering this precious little girl a home. ❤️