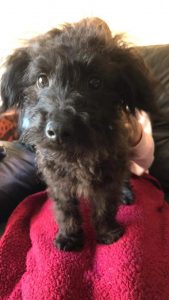 Say hi to little lad Captain. He is about 12 weeks old and a smart and confident little boy. He's likely to be a poodle mix judging by the coat and will be a medium sized crossbreed dog, with a grooming requirement at full growth.
He's ready for a new home and priority will be given to those who have applied previously and will only be rehomed to a family who are committed to ongoing training and development. This pup is crate trained and doing well with toilet training, but will require commitment to continue this.
If you are interested, please fill out a form here. This pup will be popular and we will be looking for homes of best fit, so the more detailed information you provide the better.