Julep is the loveliest little dinky girl of about 4 years old. Here's what her foster mum says..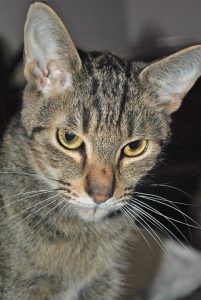 "Julep is the sweetest little cat – she is tiny for her age. She is half Siamese and half Bengal, strikingly pretty and very friendly, although it took a couple of days for her to trust me as she was painfully shy to start with.
Her prospective new family need to be patient at the beginning but they will be rewarded by a loving and chatty cat. She loves attention and fuss. She will come and sit on your lap too and we are working on being picked up and cuddled !
She has met the resident cats and dogs and is just a little shy of them at the moment. She would suit a home being the only animal or equally could settle with other cats and gentle dogs who don't chase her (again she may be a little shy at first).
She has a funny little habit of pretending she is a rabbit at times as per the photo below !"
If you think you are interested in this beautiful girl, please fill out an enquiry form