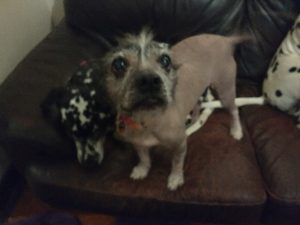 Tia Maria is one of the sweetest natured dogs you could come across. She greets absolutely everyone she meets with the waggiest tail and waving her paws at you to get your attention ?
TiaMaria is almost completely bald as a Chinese Crested girl, and she's about 10 years old. You'd absolutely never guess, as she's a busy, lively little lady who loves other dogs, and is really lovely natured with children too. She's settled and calm overnight and when left for periods up to 4 hours, but she's absolutely desperate to bond to an owner and be loved, so would love someone who's around a lot of the time.
Tia is polite, sociable and despite an an unusual appearance, is an utter dreamboat of a dog ?

If you have a Tia shaped space in your life please complete a form here