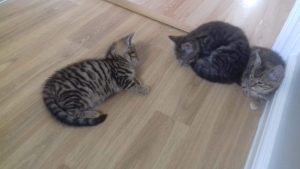 Teddy, Dolly and Blanket are a very special little trio. They are approximately 11 week old kittens who were found on an industrial estate after their mum was killed ?. These little ones not only had to fend for themselves, they have additional eye problems. If you look closely you can see they have eyelids missing and pupils with divergent squint/ abnormalities. They will need monitoring closely in case they need eye drops or other treatment, and we are happy to chat this through.
Both Dolly and Teddy have come round nicely and are enjoying much closer contact, however Blanket still is elusive and requires more work.
We would love kind homes, with older children or adults only, to continue to encourage them to make friends, and they will need safe space to explore, either indoors/catio areas or outdoors with close supervision.
If you think you could rehome a pair of these kittens or a single one if you have an existing friendly cat, please fill out a form here