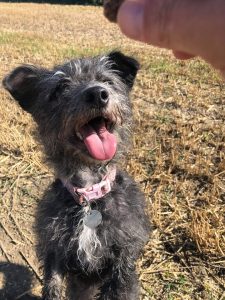 Ren is a Bichon x Jack x Chi; tiny terrier mostly made up of fluff and weighing just over 6kg. She is a mere 15 months old.
She has come leaps and bounds since coming to foster with us and grows in confidence everyday; that said she is quite a nervous little lady so we will recommend a home with another youngish dog. She is great with cats of all ages but takes a day or two to get used to her dog companions, so a slow sensible introduction needed there.
She is great both in and out of a crate. Sudden noises will trigger a low growl or bark from her; true to her terrier genes she alerts you to all noises. Loud noises, especially loud children can make her growl and run to hide and she requires more work on this but often a firm no to any barking and growling followed by reassurance and a treat settles her down. She is very affectionate and sweet natured.
So clever, in her short time with us she's learned a one whistle recall, up, down, sit, wait and stay and she walks very well both on and off lead…also she's learned to take treats nice and gently. She will make any family a cracking addition as long as they can offer a home where she can continue to learn and grow in confidence, training is strongly advised as this will most definitely help with the nervous disposition and she is so eager to learn.
If you have the right environment for this little poppet, please fill out a form here