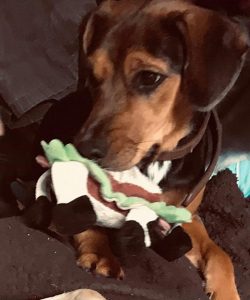 Noddy is a a small/medium 8 month old crossbreed. He's a lovely, lively, smart little dog. He's good with other dogs, though very playful, and needs an owner who will keep him on track.
Noddy is showing huge potential as a search dog, and may well be trainable to a high level in this area- he's very ball motivated and can already be sent to search different rooms to find his ball 🙂 we would love him to go to a home who will use this skill or at the very least use his intelligence to achieve success and positive feedback from an activity on top of just regular walking.
Noddy is house and crate trained and needs a very consistent approach to encouraging his settling down, which is coming together nicely. Noddy can appear to be reactive on the lead however this is mainly over excitement and frustrated greeting, but a new owner will need to work with this and regularly socialise him to expand his on lead skills.
Noddy is in foster near Stotfold and would love an active home, he cannot live with cats but can live with children who understand he is a bouncy baby.
If you are interested in Noddy and think you can provide the home he deserves then please fill out an Enquiry Form here.