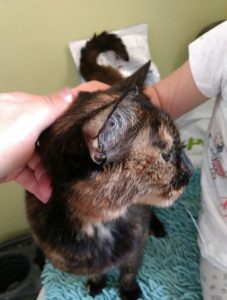 Zoe is the most beautiful tortie girl of about 4 years old. Zoe has an altercation with a car and learned the hard way that metal hurts ……
Consequently after a severe set of facial injuries, she had to have her jaw wired to fix it and wait for the other fractures to heal.
She's left now with a slightly asymmetric jaw, which doesn't bother her at all, but means that at times she has her mouth open slightly ? however nobody told her that and she loves Dreamies and biscuits and her favourite of all time is chicken ?
Zoe is really affectionate and jumps on a lap for a cuddle and is really friendly with older cat savvy children, just needs a bit of respectful handling around her face. Zoe has met dogs in foster and will stand her ground but isn't scared of them so could live with a cat friendly dog.
If you have a Zoe shaped blanket on your sofa, please fill out a form Here Due to her previous total lack of awareness of road safety we will be looking for either a stimulating indoor home for her or a rural location where she won't come into much contact with vehicles x