NANDO Is a beautiful natured 6 month old lurcher pup. He's very dog and child friendly and cat tested fine, and would love a new home with some playmates in, as he loves playing.
Nando can initially be noisy when left, but soon settles and can tolerate being left for a couple of hours absolutely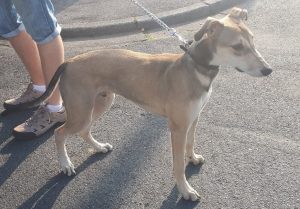 fine, but would not like to be left for full time workers.
Nando loves nothing better than a chat and a cuddle, and for a youngster he's very respectful of older dogs and will listen when told to calm down. He's a bouncy, leggy dog and will definitely need a safe garden to play in. He will benefit from further leadwork and would thrive on puppy training classes, which we would like his new owner to attend.
If you think you have space for a Nando in your life, please complete an Enquiry Form