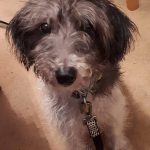 Colin is a 7 year old medium sized cross breed boy, possibly jack x poodle or similar (but not necessarily a hypoallergenic type coat), and described by his Fosterer as a womble ?.
Colin can be a little shy in new situations but quickly comes out of himself and enjoys making new friends once he's settled in and feels safe in an environment. Colin is happy and friendly with other dogs, but can be quite annoying and barky towards even confident cats, so we are looking for a cat free home for him.
Colin is house and crate trained, and is fine to be left for periods up to 4 hours. He's playful and affectionate and enjoys decent length walks, and is attentive to training. He's a lovely all rounder but hasn't been used to, and doesn't feel particularly confident with small children, so we would prefer a quieter type home for him, and children of approximately 8 years and older.
If you think you have the cuddles, exercise and environment for please fill out an enquiry form here