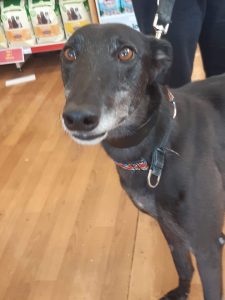 Mammat is a lovely 5 year old ex racing greyhound. He's a lovely boy, who's bouncy and fun and full of happiness. He loves everyone and all dogs, although he can be a bit boisterous for smaller dogs.
Mammat loves his walks and is quite excited to be out and about, travels perfectly in the car and loves to meet up with anyone who has a treat or a bit of affection for him.
This lad is perfectly fine being left especially with his chews and treats and is fine both in and out of his crate. He's very friendly, but we would say older children for this lad as he has a super waggy whippy tail and a bouncy nature. He can live with other dogs, especially those who are playful, but would equally be happy as an only dog with lots of cuddles. No small furries, and realistically probably no cats although not yet fully formally tested with this.
If you are interested in this boy, please fill out a form here