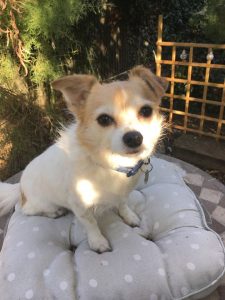 King Louie is the most precious little guy of about 7 years old. He's 3/4 chi and 1/4 jack Russell, so just a little bigger than a chi but not at all yappy, snappy or difficult.
He loves other dogs, isn't phased at all by any size and loves to be one of the gang, running around out and about. He's a really loveable little man, who makes friends easily with everyone he meets, is easy and polite out and about on the lead, and fine in the car, is happy to chill out for a few hours at home, and can go with respectful children quite happily.
He's a gem of a little guy, and could fit lots of different homes, he'd make a brilliant driving companion for someone out and about, a great companion for an older home who are active, and equally be at home in a busier house too.
If you think this little guy would fit your home, please feel free to fill out a form Here