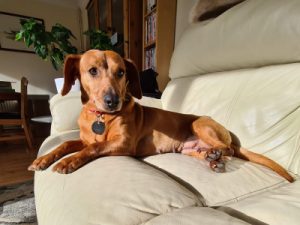 Meet Weenie who is an absolutely gorgeous little Daxie cross girl of about 6 years old. She came to us as an unclaimed stray from the pound and has the sweetest nature you could come across.
Weenie is cat friendly, although needs to be savvy, as she can be a little bold. She loves other dogs, and is happy out and about meeting people and dogs and is friendly and gentle natured.
When Weenie came to us she had 2 lumps on her which we have had removed and analysed but both were benign so nothing to worry about at all, and she is recovering beautifully from her surgery.
Weenie is crate trained and settled overnight and when left for a few hours nicely, with just a little treat to encourage her to jump in and settle down
she is always clean in her crate, but can have an occasional accident if not given regular access to outside.
As you can see Weenie is very dog friendly and happily space shares with other dogs with no issues, but could go as an only dog to a home where an owner is there a lot of the time. Weenie will be an absolutely fab companion dog, she is active to go out and about, and can lean on the lead a little, so needs an active and interactive owner who wants to do things with her.
Weenie is in foster in St Neots, Cambridge and is ready for her new home now, so please don't apply for her unless you are in a position to adopt her. If you think you have space in your life for a Weenie one, please fill out this
form
and please note that we are unable to return all enquiries but if you receive the bounce back email then you have successfully submitted your enquiry