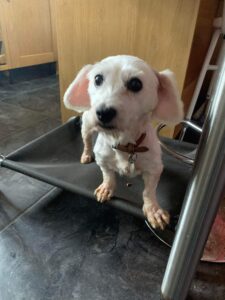 Meet Moonlight who is a 4 year old, beautiful little girl, possibly a shih tzu/lhasa bichon type mix. She is a really nice, sweet natured little dog who can initially be a little timid but is a super special little lady, who wants endless cuddles and affection.
Moonlight was found straying in horrific condition that was so bad that she was unable to toilet as her matted coat meant she couldn't even go and was screaming in pain bless her
Moonlight as a result has been completely shaved and needs some time to regrow her coat and her beauty…. but her gorgeousness shines through beyond that
Moonlight is really good with both people and dogs, but needs reminders to do basic things still at the moment. She needs lots of opportunities to go out to the toilet, and then lots of positive feedback when she toilets outside (still a work in progress but getting there). Moonlight will sleep in her crate nicely, and is clean in there, but needs a little encouragement and again, positive reinforcement to get in initially.
Moonlight needs opportunities to work on her confidence, and to be happy that nothing bad will happen and to share what she has, and that she won't be left wanting again… in other words you don't need to tell other dogs off if you're on the sofa/ have a bone etc… but is very easy to remind bless her.
Moonlight is looking for a kind and loving home where she will get loads of love and attention balanced with plenty of guidance to continue learning really good behaviours to be happy for life.
Moonlight is shy but non aggressive when out and about, and will need lots of kind and gentle exposure to the outside world to learn how much fun everything can be. She is currently in foster in Arlesey, Beds and is ready to find her new home now. With guidance she can live easily with other dogs, or as an only dog, and will like a calm home with people who have plenty of time to bond successfully. Due to her timid nature she will appreciate a more predication environment with older children or an older family than a busy household.
If you are interested in her please fill out the
form here
and please note that we are unable to return all enquiries.
Please note that Moonlight is ready to go, so please only apply if you are in a position to proceed with adoption straight away, and don't have holidays booked etc as she is so ready to meet her people and fall in love for life
Please remember that the more information you give us, the more we can work out whether she is a good match for your home