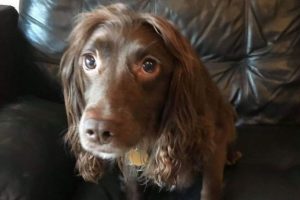 Vee is about 3 years old, and is a real poppet. She's very wimpy and can be extremely hesitant about new things or change, or pressure being put on her. She deals with this by putting herself on the floor, and needs coaxing to get up and get on.
Vee would suit an older but very active home, once she's got her confidence she loves being out and about, enjoys long walks and is fine meeting other dogs and people. Vee can be slightly guardy (common in nervy dogs) but with reminders she knows she doesn't need to do the grumbling and is happily co-existing with other dogs.
Vee would suit either an only dog environment with a confident owner, or as a second dog to an older confident one who can show her the ropes and increase her feeling of security.
Although Vee is kind tempered, she will be rehomed with children over about 10 years, as she much prefers a predictable and calm environment. Vee is house and crate trained and settles well when left for periods during the day of up to 4 hours with no issues.
Vee is in foster with cats, and although interested in them, has shown no aggression toward them, and could live with cats when introduced well.
If you think you have the right set up for Vee, please fill out a form here and explain what you are offering her.