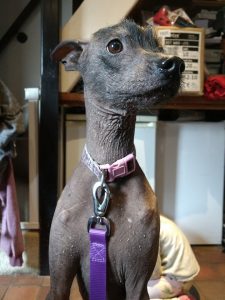 Sueno is a xoloitzcuintli ? for those in the know that means she is a Mexican hairless dog. She's 5 years old and is a really petite little girl, slimline and an excellent hot water bottle with a Mohawk hairdo ?
Xolos are smart little dogs, but a little aloof and standoffish, and Sueno fits the mould. She will tolerate other dogs, however would much prefer to bond to her people and ideally not have to share them. She's very low maintenance, she's immaculately clean and loves her crate…in actual fact sometimes you have to go and try and find her wrapped up entirely like a sausage roll in her blanket ?
She is very easy to walk on a lead, and tends to avoid doggy meetings and trots along beautifully next to you, and is happy with about half an hour, but please don't assume she will want to go out in all weathers- she has an exceptional way of looking at you when it's raining ?. She's testing well with cats and livestock in general although a squirrel out and about might well be worth chasing 😉 She doesn't much fancy the car, and is a bit car sick (very dribbly and nauseous) but is very well mannered as a traveller.
Sueno would love a home where there are plenty of cuddles and blankets on offer, she's fine to be left up to 4ish hours at a time and is very settled in general when left. Sueno is initially timid and can be badly with visitors but with a reminder and a kind, calm encouragement will make friends with lots of people (especially if they are warm and cosy). Due to Sueno being quite timid, older children and quieter households will suit her much better.
If you are interested in Sueno and have the right environment or her, please fill out a form here