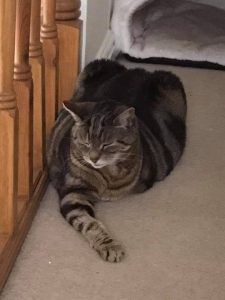 Everyone deserves a loving Mum for mother's day, and this girl has had a tough past, being bullied and not feeling settled in her home. Her previous owners very much loved her, but despite taking all advice given, couldn't make her happy and took the last choice decision to hand her in for rehoming.
Her foster mum says this:
'Paloma is a beautiful, larger than life 12 year old lady, who has some specific needs to bring out the best in her. She is a pretty girl and desperately wants to be your friend but is a little wary and scared of contact and being stroked on her back, so her prospective new owner will need to give her space and a lot of time to gain her trust. She now allows me to pick her up (under a little protest) and loves to rub against legs and likes the top of her head tickled (on her terms) – I really feel that we have come on leaps and bounds in the time that she has been here but I think she will always be a cat who does things on her terms and not a cuddly lap cat. She is happy just to do her own thing, so may suit a home where she can interact with humans as and when she feels confident too.
She has met all the resident cats and dogs here and although wary of the dogs, will tolerate being in the same space as them.
Her absolute favourite place is lying on the gallery landing, watching and waiting.'
Although Paloma can live alongside other animals, we really feel she would flourish as a cat given space and freedom to interact as a loyal companion once she knows she's safe. If you are interested in letting this beautiful bug girl have a safe and calm space, please fill out a form here, we would love for someone to give her the chance to enjoy life x