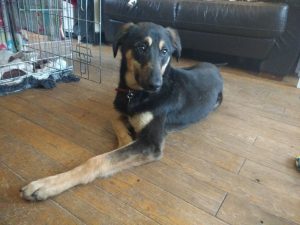 Marmite is Merlin's brother and is also stunning 6 month old cross breed, maybe Shepherd X Lurcher, maybe Shepherd X Husky.
Marmite has been very good natured in the house with his foster family, both with people and other dogs he lives with. He is generally quite calm but still playful and can be a little shy at times. As with Merlin, Marmite does not appear to have experienced much of life so far so the big wide world are all an adventure and can be a little scary, but he is learning that it probably will be fine as he gains more experience.
Whilst left Marmite is a little wimpy, but he does look to other more confident dogs for bolstering.
Marmite will be expected to be an energetic, smart and sociable large cross breed boy who will love training and make a fabulous family pet
As with all Luna dogs, Marmite will be Neutered, Wormed, Flea treated and Microchipped
If you are interested in adopting Marmite please complete our Enquiry Form