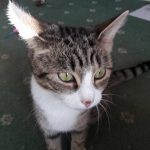 Skye domestic shorthair, female
Skye is a young cat who was brought into rescue with her 3 very young kittens.
She has done a fab job of raising them, and is now ready to be rehomed. She loves
human company and would love for someone who will give her the same love and attention
that she has just given herself.