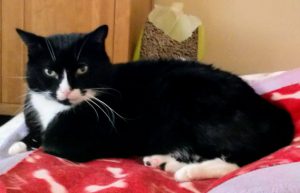 Dill 6Yrs domestic shorthair, male.
Dill came in with Sorrell and both were quite traumatised, but they have come such a long way from the cowering balls of fluff that they were!
They need to be homed together as they are so very close, they will need a quiet home with an understanding owner who won't push them. They both need to lose some weight too so the owner will have to commit to a weight loss programme.
Not surprisingly, Dill's favourite thing is food! They both love to cuddle up alongside you.