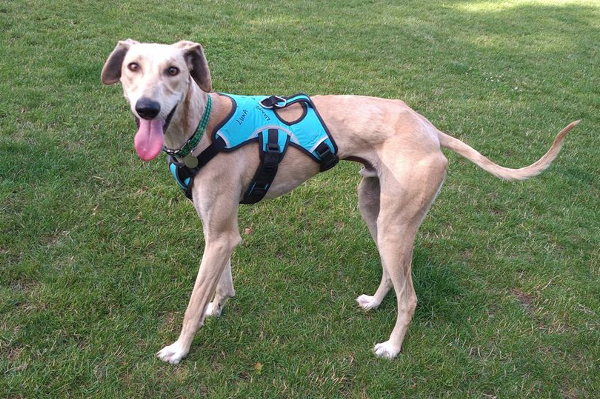 Custard is such a lovely boy, Custard by name and cowardly custard by nature.
Custard is a year old lurcher boy, who was found straying and after a long period of trying to fend for himself, gave himself up in search of food.
He's come on leaps and bounds but is still a wimp, and looks to doggy friends for confidence. He's fine to be left for a few hours as long as he can see a doggy friend or 2, and is now crate and house trained successfully.
Custard would be fine in a home with children, he's very gentle but wouldn't like lots of shouting, so quieter, more likely older children would match him best. He'd like a playful friend and companion dog who's already confident in the world. He'd be absolutely over the moon to live as part of a pack, and interacts beautifully with lots of doggy friends.
Custard is unlikely to be an offlead dog apart from enclosed safe spaces, as loud noises really spook him and he'd run off and hide, but his confidence will come over time and his bond with a new family will take time but will come with quiet perseverance. He'll repay you a million times over with his happy smiley face and waggy tail when you make him feel at ease, he so deserves to be loved and cherished.