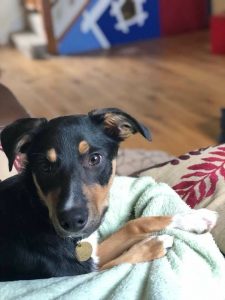 Bamboo is a 15 week old collie cross pup. He's busy and lively and full of beans, just how a pup should be. He loves playing with other dogs, although he hasn't really learned that woofing at them when on the lead is a bit cheeky (we are still working on this). He also believes that chasing cars is an amusing hobby, which we are working to discourage and show him that looking for treats is much better fun.
Bamboo is fine to be left for periods of a couple of hours, but would like someone around more often than not. He can be slightly worried about meeting new people but this is just a case of needing regular exposure and practice.
Bamboo would benefit from going to puppy training and continuing to socialise regularly, and we would ask that new owners are committed to this. He's a gorgeous boy who loves cuddles and deserves a happy, active life.
Bamboo can live with children who are respectful of him, and can go as either an only dog or with others. He has been cat tested and passed, however he can be excitable so will need introducing properly to new housemates.
If you are interested in adopting Bamboo, please fill out an Enquiry Form and tell us why your home would be a great match.