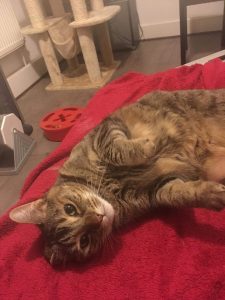 Rubix is a 4 year old lady who has been in with us for a weeks and is looking for an adult home with people who understand she has had a really tough time and is initially scared. She is one for a confident, calm cat owner and her foster mum says this..
'Rubix came in quite scared and did not like the cat carrier at all. Over the past few weeks she has really calmed down and become much more confident but still and be jumpy at times. She is still not a huge fan of he cat carrier.
Because of her reactions at times, she needs a child free home. She is not a cuddly cat at present but this may change with time. She loves rubbing her head against you and is a very independent lady! Rubix was a house cat previously but is very curious about outside and may in time do well with access to quiet outside space, but will not a fully outside cat.
She will need time in her new home to settle and trust but once she does this, she can be a delight.'
If you think you can give Rubix the time and love she deserves, then please send us a form here