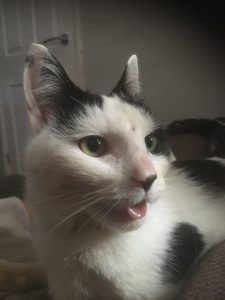 Moana is the most gorgeous girl who has been to hell and back… And is still the friendliest, cuddliest sweetheart you could meet.
Moana was grabbed by an extremely big strong dog who dented her forehead and smashed her bottom jaw she has gone through weeks of having her jaw wired to try and fix it, and just when we thought she was making great progress…. She very nearly died from a horrendous and very acute kidney failure as a result of infection.
This beautiful girl spent days on fluids, and thankfully our wonderful vets at Vets4Pets Biggleswade helped save her life. She's totally recovered, her jaw is mended, and she's eating perfectly (making up for lost time) and her kidneys are recovered fully to within normal parameters.
For obvious reasons Moana will be rehomed without dogs, but is totally happy with other cats and is so affectionate with her family and friends (preferably gentle older children if any present) , so please…if you have space for a cuddle monster in your life, fill out a form here