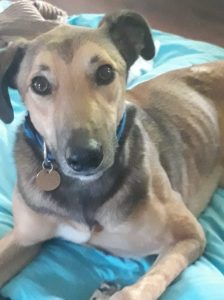 Merlin is back with us again unfortunately. He's a 2 year old lurcher boy, of about 22kg size. He's a beautiful bouncy and friendly lad, a little wary of some men, but all he wants is cuddles and fun.
Merlin is a bouncy and boisterous boy, and although he is very gentle natured, he won't be rehomed with small children. Merlin absolutely adores other dogs and would love nothing more than a home with other doggy friends, he loves running, playing, swimming, ball games and would make a fab active companion for a runner. He's a superb dog, who truly deserves his happy ever after.
Merlin can be left for 4 hours at a time, and is perfectly behaved when crated with chewy treats, as long as he can see another doggy friend.
Please complete a form here if you would like to know more about him x.