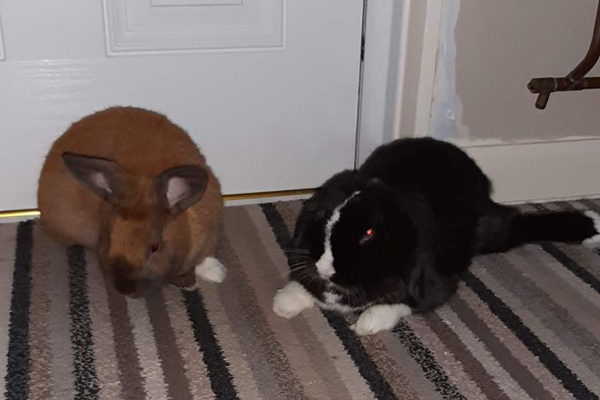 Marlon (brown buck) and Amber (black and white doe) are a pair of bonded bunnies of about a year old. Both have disabilities but you'd never believe it- they are utterly awesome and live life to the max and need nothing above love, stimulation and normal care.
Amber was born with splay leg which was monitored very carefully by our vets, but has never displayed any pain, never had a pressure area develop, and runs and jumps and does seriously fast zoomies with no holds barred ??
Marlon suffered a traumatic back leg break a couple of months back, which has been successfully pinned and he uses it now perfectly normally too. Marlon will live now with his metalwork left in, but you wouldn't know, he's a happy bouncy boy ??
They are both neutered and are fully vaccinated and healthy.
They are currently living as house bunnies and both are litter trained, however would be able to transfer to outdoor living in the correct set up with soft surfaces, and very regular check ups. They both absolutely love human interaction, are used to cats and really love spending time cuddling up to people, so really need a home where they will have all the affection they deserve
.
Bunny adoption is £40 each, and these poppets obviously go as a bonded pair only. If you are interested in Amber and Marlon, please send in an enquiry form Here