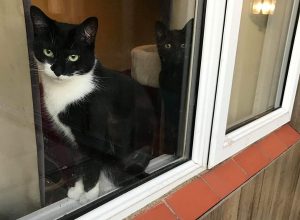 Marge is a very sweet and petite black and white girl of about eighteen months. She likes nothing better then having her tummy stroked. She is a little shy at first but once she comes out of her shell she is an utter delight,and loves to watch at the window for when you come home.
If you are interested in Marge and Maggie please fill out a form here and if you previously have, and have been unsuccessful but are interested in these ladies, please message us on Facebook x
Marje came in with her sister Maggie and they are available as a pair.