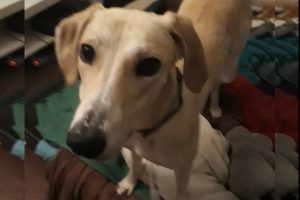 Kerplunk is a 2 year old Labrador x lurcher boy. He's incredibly friendly with both people and dogs of all sizes, and loves nothing more than to have a giddy play time and a game of chase, and then a lovely snuggly cuddle.
Kerplunk is crate and house trained and is happy to be left for up to 4 hours at a time, and settles well. He would love to have a doggy friend, both to play with and settle down with, but would not suit an environment with small furries due to previously having been worked we think.
Kerplunk is great out and about on the lead and enjoys meeting new people, and is very sociable with other dogs he meets.
Kerplunk has so much fun and love to give to his new home, and has been fine with children too, we'd love to find him a new family to have for his own. If you would like this handsome, pyjama wearing boy, please fill out a form here