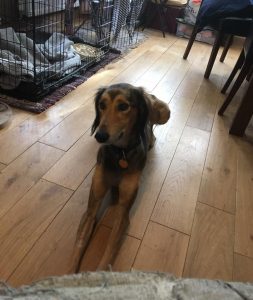 Kahlua is a young adult approximately 14 month old saluki cross boy. He's dog and child friendly and loves nothing ore than a good snuggle and a cost on the sofa. He's crate and house trained, and can be left for up to 4 hours (after initial settling in period- as he's initially upset for a few days following a move) .
Kahlua is a bit of a shy lad, who takes a while to let his fun side shine through, and he's a bit hesitant out and about, but is gradually gaining confidence. He is generally slightly wary meeting new people, but has never shown aggression, he just holds back until he knows you, then cuddles are a free for all ?
Kahlua would love to find a new home, preferably with a kind settled doggy friend, who will give him love, affection and cuddles. If you think you have the room for this stunning, handsome gentleman, please fill out a form here.
Kahlua is likely to have been worked prior to finding himself in rescue so we think he wouldn't be suitable for houses with small furries.