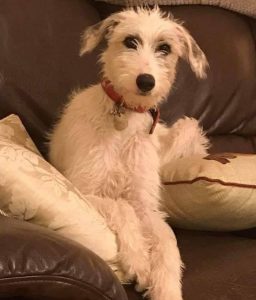 Jazzy is a 4 month old rough coated lurcher. Look at her legs……she is just a baby and will become a very large dog when she's finished growing!
This is what her foster mum says about her….
Jazzy is a typical puppy, sweet, eager to please and learn, playful and mischievous at times !
She plays well with her foster families other dogs and will need a tolerant older dog to learn from and to correct her.
She now sleeps in her crate through the night, without any barking or whimpering and is generally clean in the crate and house, although you have to expect the odd puddle !
She knows her command to 'be quick' in the garden. She has shown no signs of any food aggression.
She is fantastic out on walks and although she barks at dogs, it's because she is excited to see them – she loves meeting humans and dogs alike and again, has not shown anything but love and playful puppy !
She needs ongoing training, discipline and boundaries as she can be a bit puppy nippy in play at times, but she reacts positively to clicker training and treat based rewards.
All in all, a smashing puppy who, with the right family, will flourish !
Due to Jazzy's size and age, she would best suit a home with older children and robust playmates. She is in with dogs and cats and is great with both, but in typical puppy fashion.
If you think you would like Jazzy, please send in an enquiry form we will be looking for a home who want to pursue training opportunities for her.