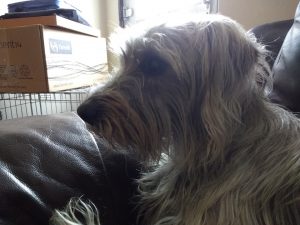 Frazzle is a 2 year old medium sized scruffy lad. If you don't want cuddles and affection, please don't apply. This boy LOVES cuddles. He will literally upturn himself on your lap and look at you adoringly.
He's smart, but lovable. He's busy, but happy to have downtime. He loves everyone, and we mean everyone. He adores the company of other dogs, and will want a home with a doggy friend. Unfortunately, he would list his top interest as cat chasing, so definitely can't go with them or he'd be a little monkey.
His recall appears good, and he loves running and playing with other dogs. He travels well, and is house and crate trained and happily left for up to 4 hours as long as he can see another doggy pal.
This boy deserves a special special home. He is adorable. He mixes brilliantly with young children, calmly and confidently and loves playing.
If you have a doggy friend for Frazzle, and have enough cuddles to share with him, please fill out a form here