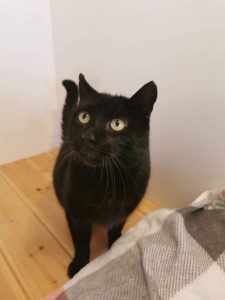 Meet Duke who is chatting away wanting attention, he NEEDS his new home bless him.
He lost his Daddy who died a little while ago and he hadn't known any different so has been a shy little guy to get to know in foster. Duke waited patiently for a rescue space and has been such a good boy, once you find the way to his heart (brush him…. brush him….brush him…… he looooooves it) then he is your best friend for life.
Duke definitely prefers older people who move slowly and he would idolise his people, being the sweetest little affectionate guy in a nice quiet home.
Duke is 10 years old, fit and healthy and ready to go, just needs a nice quiet home with someone who is there most of the time and has no other pets to scare him (don't tell him we said so but he is a bit of a wimp
).
This gorgeous boy is currently in foster in Wilstead beds and if you are interested in him please fill out the
form home
and please note that we are unable to return all enquiries but if you receive the bounce back email then you have successfully submitted your enquiry.