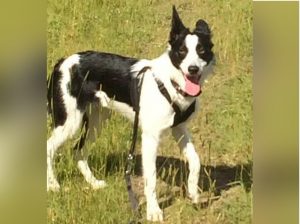 DIDO Is a beautiful 13 month old girl who has had a really unbelievably tough start. Unsocialised and anxious, she came to us at 6 months already medicated
? and having been taken to be put to sleep due to her anxiety and fear of the world, while still only a baby herself.
Dido is totally medication free, and is the most beautiful slim framed black and white border collie girl. She's tennis ball obsessed and will absolutely thrive with an experienced collie person (and will already retrieve and swap for tuggy and could train beautifully for flyball). Dido has had some really intensive training recently and has responded very well to it.
Dido is still occasionally hesitant and can be a little noisy when meeting and approaching new dogs and people, but is still gaining confidence in the world however Dido is very good with dogs and cats and experienced younger family members.
If you are experienced with Collies and their traits and are happy to continue giving this gorgeous baby her chance in the world with relevant, positive based training which will give her more life skills and calm confidence, please fill out a form here