Cola is turning 1 tomorrow and is a pug cross jack boy who's an absolute little poppet. Here's what his foster mum says…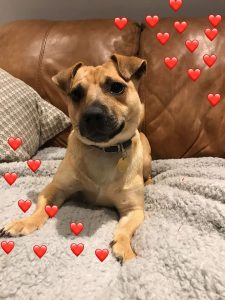 I'm thinking this little chap should prob go with children about 8+ as he loves to play rough and it's easier for older kids to keep toys and stuff out of his way . His temperament is sound and no sign of any growling even with a bone . Just a bit mouthy when he get excited . He is doing less of it and I can see I'm improving everyday with everything .
With other dogs he seems to only be a bit of a pest on the first meet with a few then the novelty wears off by the second meet or day , otherwise a brilliant little companion dog that would suit most dogs .
House training improving with basic puppy style training and he is clean and quiet in his cage all night and when left . Barks a little bit for attention sometimes if in there in the day when you are about . Really intelligent and quick to learn , easy to walk . Funny , silly and playful .
If you would like to apply to adopt Cola please fill out an enquiry