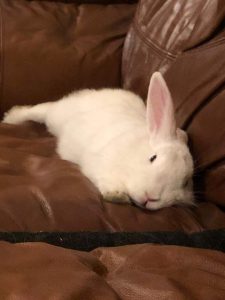 Charades is only 8 months but boy does he have a story to tell. He's lost a front leg courtesy of a really nasty break which wouldn't heal (but don't tell him that as he believes he's Superman).
This boy is a cuddly, snuggly, bundle of fun and frolics, and you'd never believe he as a limb missing. He loves a cuddle on the sofa, is totally not phased in any way by other animals and is a fab house guest- he's litter trained and loves being inside with people so would be happy as a house bunny or once acclimatised in appropriate weather could go out.
We'd absolutely love him to have a Mrs Bunny, but bonding would need to be done with care and ensuring he was kept safe, as, despite, what he believes, he actually is one leg down ?.
Please fill out a form here if you feel you can offer charades the home he deserves.