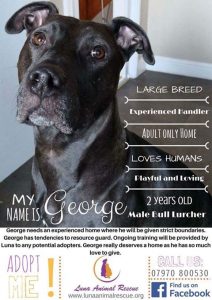 Beautiful George is looking for a home. He is 2 years old and the biggest doofus ever and is incredibly loving and playful. He is a large boy who needs a strong leader in an owner, he tends to resource guard and Luna will provide ongoing training to any potential adopters, but he thrives when he knows the rules.
George is still waiting for a chance at a new home. Unfortunately we haven't got a suitable foster home free for him and he is living in Kennels. However he is coping well and the kennel staff have described him as a "happy chap who is good to deal with"
George does need a specific home but we know it's out there somewhere.
Please share this boy and give him a chance to find that forever home. He really deserves the chance to finally settle with an owner who he feels secure with.
George is currently in North Lincs (Goxhill)
Please share this boy far and wide.
If you are interested in adopting George please complete our Enquiry Form